Blackwing has an amazing history. These pencils roots go back to the 1930s, when the 602 model was first introduced by the Eberhard Faber Pencil Company. We're dedicating this Brand Spotlight blog post to all the amazing supplies we carry from Blackwing, including old favorites plus some brand new additions.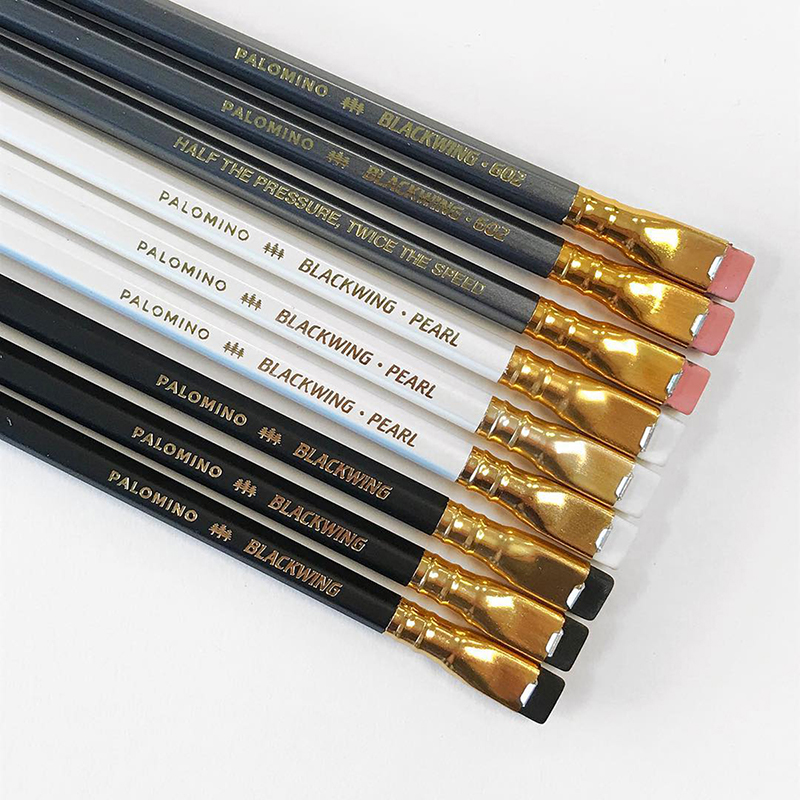 We carry three varieties of Blackwing Pencils: Original Matte, Pearl, and 602. What's the difference? We'll tell ya!
The Blackwing Matte Pencil provides a soft, smooth writing experience for artists. Made of genuine Incense-Cedar casing and Japanese graphite with a matte black finish and black eraser.
The Blackwing 602 provides a firmer graphite core that helps it deliver on its promise of Half the Pressure, Twice the Speed. Each features a gunmetal grey finish and pink eraser.
The Blackwing Pearl provides a balanced and smooth graphite core that is softer than the graphite found in the Blackwing 602, but firmer than the graphite found in the original Blackwing—the perfect middle ground. Each features a pearl white finish and white eraser.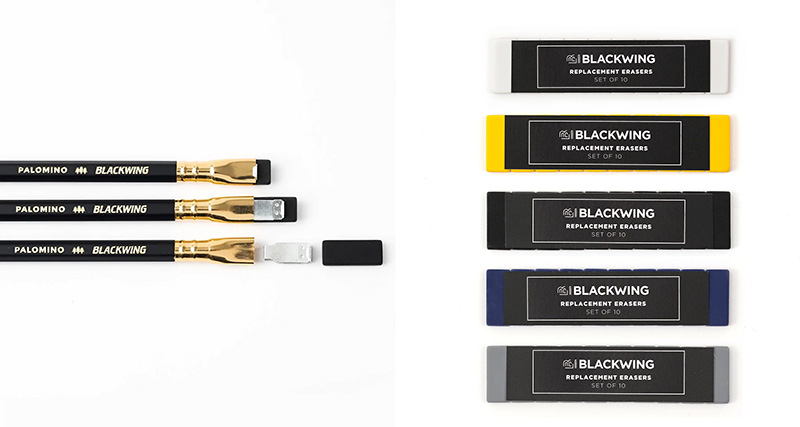 After its introduction in the 1930s, the Blackwing pencil became synonymous with quality. It was known to be used by several important figures, including John Steinbeck, Looney Tunes creator Chuck Jones, and Disney animator Shamus Culhane. The Blackwing was discontinued in 1998, but it maintained a cult following, selling for as much as $40 on eBay for a single pencil.

One of the most iconic aspects of the Blackwing pencil its its unique ferrule––each square ferrule holds both the replaceable eraser and an eraser clip that allows flexibility in eraser length.

We hate when a fantastic pencil loses its eraser, but luckily with Blackwing that problem can be remedied. Replacement erasers are available in 10 packs, and a variety of color options.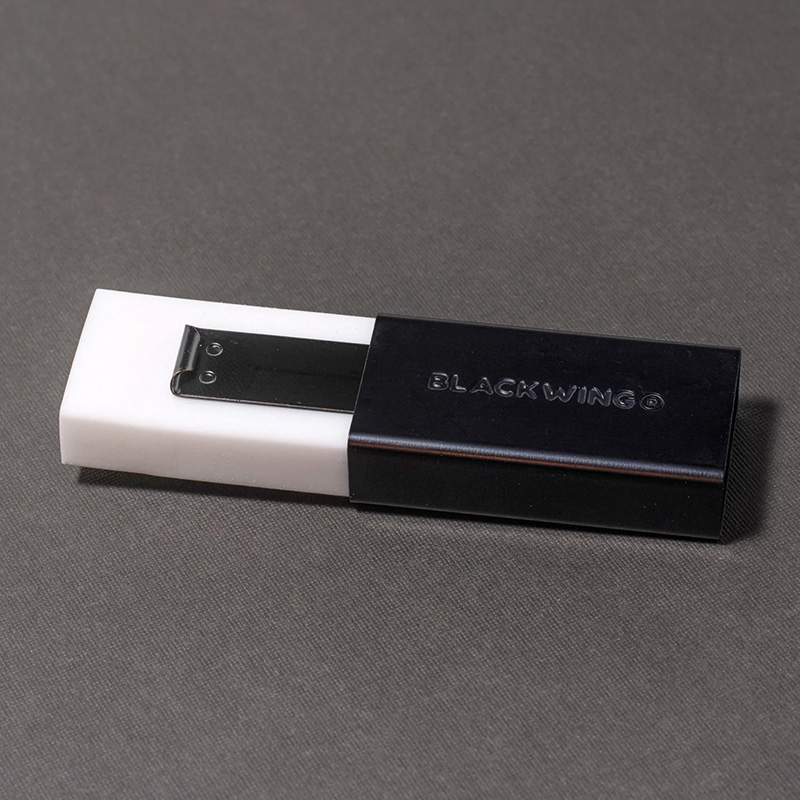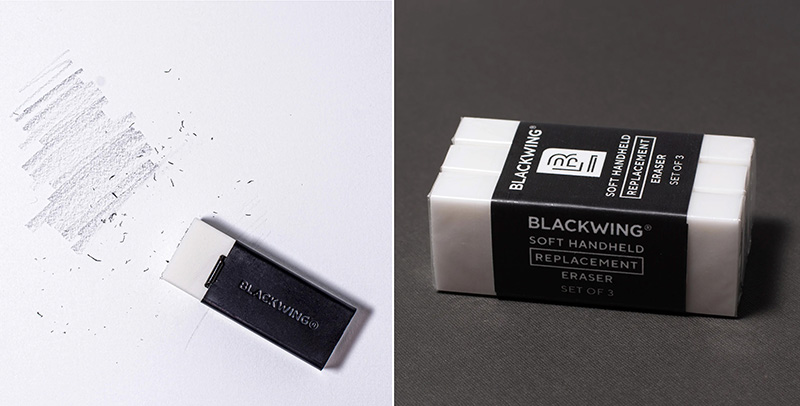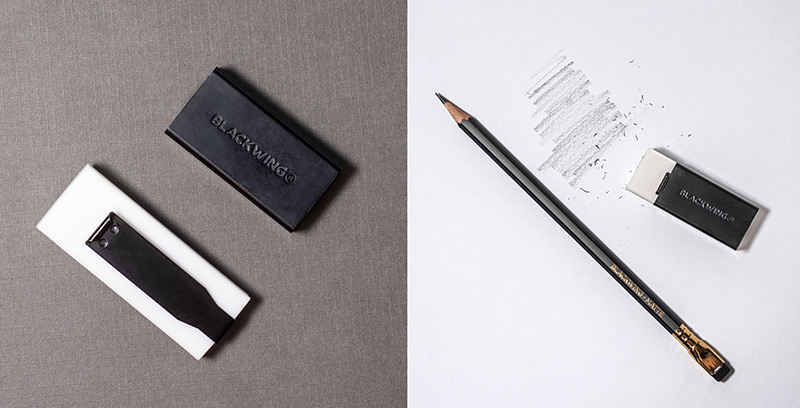 Although replaceable pencil erasers are so useful, sometimes you just can't beat a separate eraser that covers more ground. Blackwing's Handheld Eraser + Holder is just the item for you––inspired by the iconic design of Blackwing's eraser clip, but adapted into a sleek handheld form!
Made from a special soft material that is specifically designed to erase the dark graphite marks of Blackwing pencils easily and cleanly, each eraser is fitted into a durable aluminum holder that allows for a solid grip. Jumbo-sized version of the iconic Blackwing clip allows you to extend the eraser as you use it. Plus, replacement erasers are available for this item too.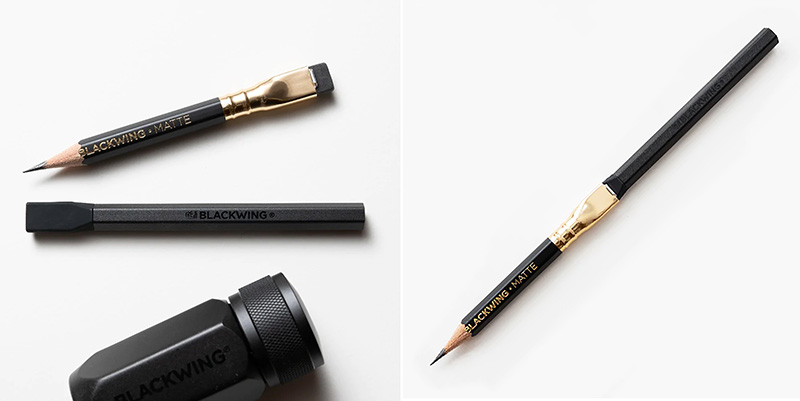 Although the Palomino Blackwing range of pencils was re-introduced in 2007, artists and writers compared them to their beloved 602s and began asking for the original to be revived. After tapping into over 100 years of family-run pencil industry experience, the Blackwing pencils that were so beloved throughout the 1900s were resurrected in 2010.
Because Blackwings are such a coveted, high-quality drawing pencil, you definitely want to use them to their fullest extent. So what happens when your well-loved Blackwing has been sharpened all the way down to a nub? Try the Blackwing Pencil Extender!
This extender attaches easily to the clip of the ferrule and works with any model of Blackwing, from their original Matte variety to special edition Volume editions.
Blackwing pencils deserve only the best sharpener to keep them in tip-top shape, and Blackwing has two varieties to choose from.

The One-Step long point sharpener creates a long, curved point that resists breakage. It's made from durable black machined aluminum with a compact design that makes it easy to carry it with you. Features replaceable steel blades. and holds three fresh sharpens before emptying is needed. This sharpener works best with Blackwing pencils.

The Two-Step long point sharpener offers a double barrel for precision sharpening every time. First, use the large hole to take away the outside casing. Then, use the smaller hole to make your lead as fine as needed. It's constructed of metal and plastic and available in three colors: black, gray, and white. This pencil is easier to use with other brands of pencil.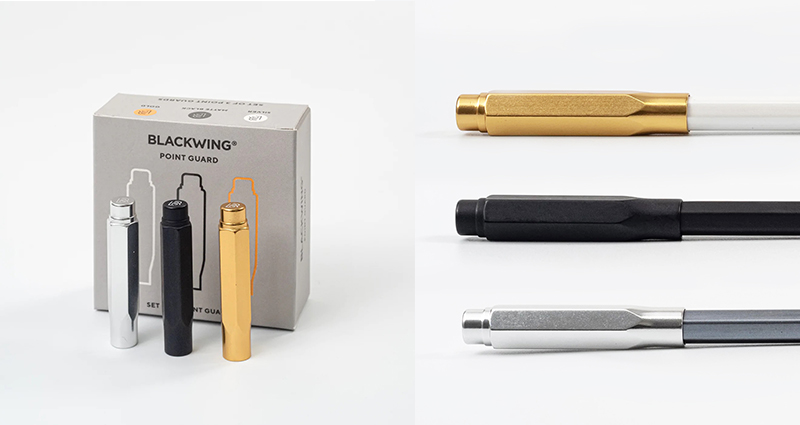 One you've achieved the perfect long, sharp Blackwing point, you don't want to sacrifice your pencil to the depths of your pencil pouch, purse, or backpack without protection. This set of 3 point guards from Blackwing will ensure your pencil gets wherever you're going in one piece.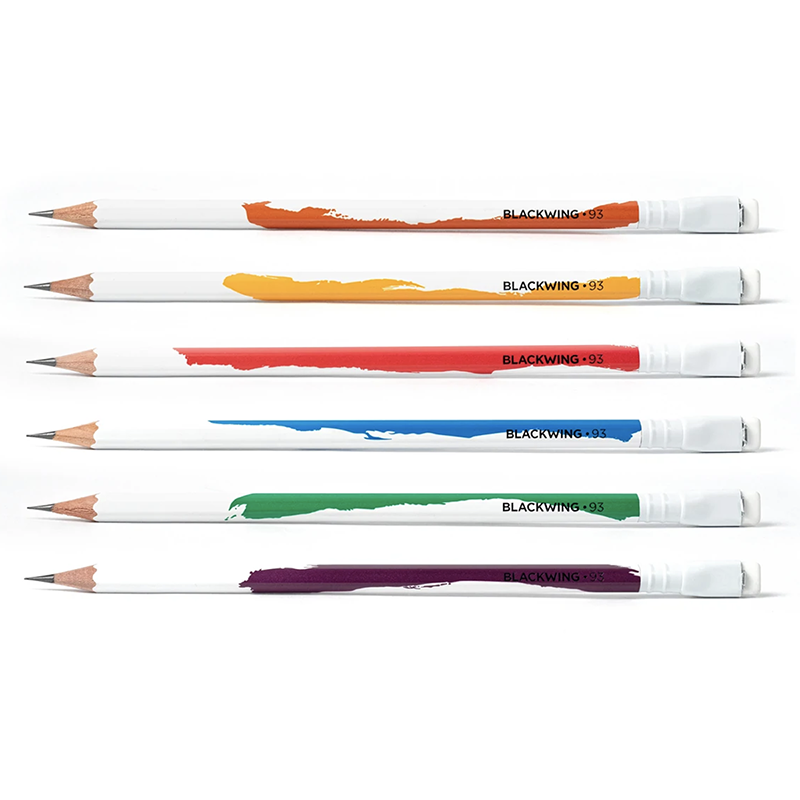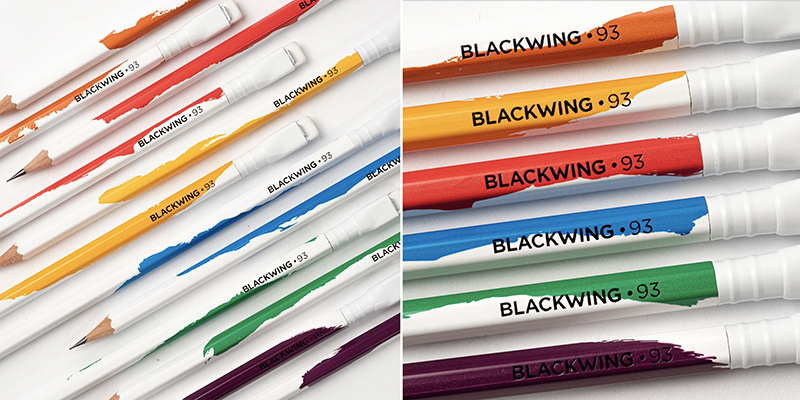 Every year Blackwing introduces a limited-edition pencil design that never fails to amaze. Although their traditional neutral color scheme is gorgeous, the Volumes Collections are perfect for anyone who wants a pop of color along with their pencils. The Volumes 93 Pencil is inspired by Corita Kent, an educator, artist, and social justice advocate who believed that art could be a tool for dialogue, reflection, and change.

The Volumes 93 pack is a tribute to Corita and her message to slow down and find gratitude in the everyday. Each pencil features one of the six colorful brushstrokes that make up Coritas iconic rainbow swash. The pencils contain Blackwing's soft graphite and each set includes two of each color design.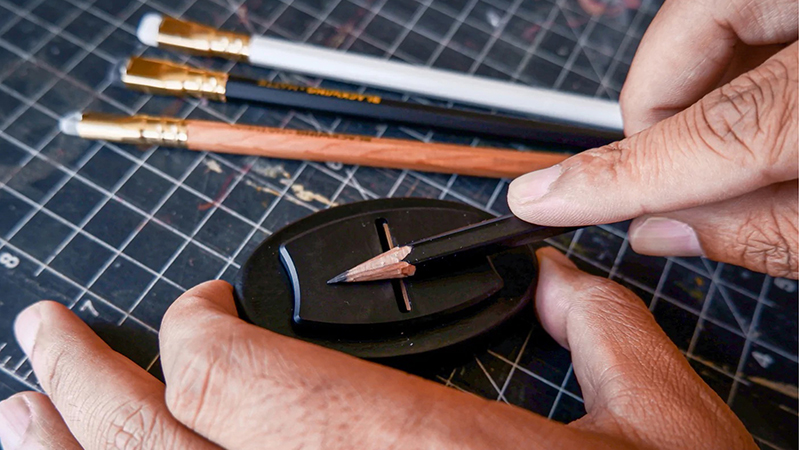 For a truly customized sharpening experience, the Høvel is the tool for you. This collaboration between Blackwing and Makers Cabinet allows you to create custom pencil points tailored to your specific needs! The Høvel offers the benefits of a traditional woodworking plane, but in a compact size that's perfect for taking with you.
Create your custom point by holding the Høvel at both ends with your dominant hand and shaving directly away from yourself until you've reached your desired point. Adjust the angle of the Høvel and the depth of the blade to achieve a variety of different angles.
Made from black anodized aluminum and includes matching black wooden base and 10 carbon steel replacement blades that will keep your Høvel sharp for years.
Not sure which pencil is the best choice for you? Blackwing's Starting Point Set features the perfect combination of Blackwing products to help you choose between Matte, Pearl, and 602–– and make you a life-long fan.
Includes one each of the following pencils, featuring the full range of graphite from soft to extra-firm: Blackwing Matte, Pearl, 602, and Natural. Also includes one Blackwing One-Step Long Point Sharpener and a 10-pack of black replacement erasers to ensure your pencils are always functional. All materials are packaged in a matte-black gift box.
---
Our full line of Blackwing products can be found here.