Marilyn Reaves is an educator, artist, and calligrapher of many talents. She has taught classes on lettering and design, drawing, watercolor, and more throughout the United States and Canada. Reaves received an MFA in Visual Design from the University of Oregon, where she teaches classes and works amongst rare books and manuscripts in the university library's Special Collections. Eliza Schulte Holliday is a free-lance calligrapher and letterist who specializes in logos, brush illustrations, headlines, alphabets, and other custom calligraphy projects. Schulte began her career with wedding calligraphy, like many do, and went back to art school to train as an illustrator and designer. She has been using the brush as a tool for creation ever since. Schulte also teaches at workshops and conferences, and her lettering has been featured in Letter Arts Review, Print Magazine, The Creative Stroke by Richard Emery, and The Art and Craft of Hand Lettering by Annie Cicale.
There are an endless amount of options available when one searches for books on brush lettering. Brush Lettering: An Instructional Manual in Western Brush Calligraphy stands out amongst them; this book covers a broad array of brush lettering techniques, offers invaluable guidance and expert advice, and is perfect for beginners and young students as well as professionals and graphic designers. Brush Lettering gives readers the potential to create beautiful hand-lettered work, from greeting cards and invitations to skillful posters and logotypes. Keep reading for a special preview behind its cover.
Contemporary brush writing shows the influence of many sources and traditions . . . In it we have a marriage of structure and inventiveness that has room for many voices and expressions. - Brush Lettering: An Instructional Manual in Western Brush Calligraphy, page 7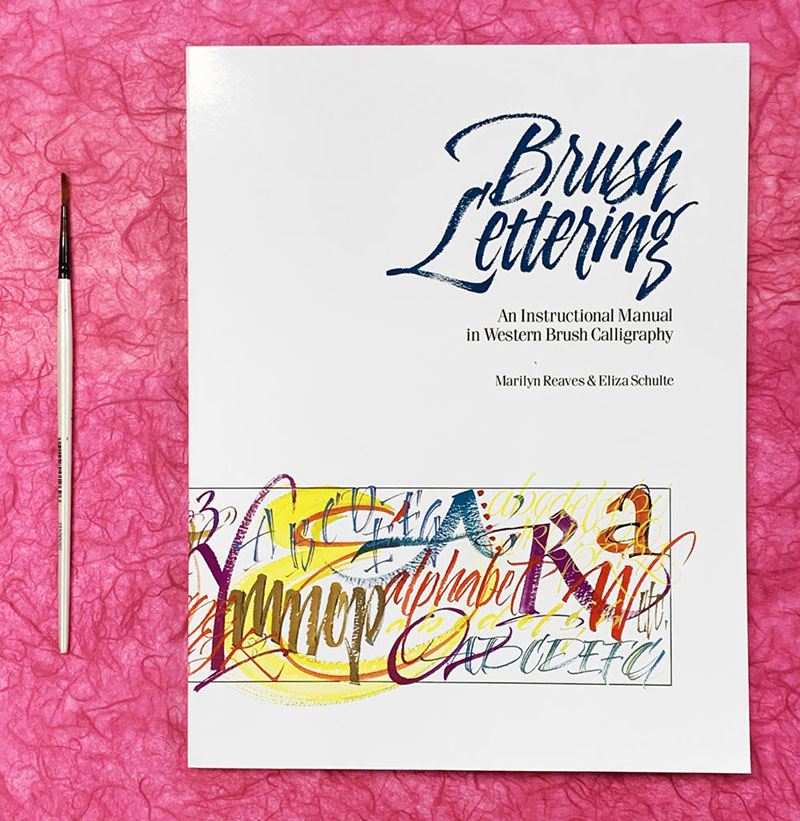 Reaves and Schulte's Introduction offers readers a short history of brush lettering around the world. A wide variety of cultures have relied on the brush for communication, including the Egyptians, Ancient Greeks, Chinese, and Western civilizations. The authors lead us through this history, culminating in the use of the brush by calligraphers and graphic artists today. Brush Lettering explains the brush's many advantages over the pen, including speed, line variation, texture, and spontaneity.
Chapter One, Studio Basics, introduces readers to their primary tool: the brush. Reaves and Schulte explain the differences between edged and pointed brushes, bristle materials, handle shapes, and brush sizing. Helpful diagrams illustrate problem brushes to avoid, pointed brush varieties, and terminology for each part of the brush. This chapter also details how to test for spring and snap, as well as proper care to keep your brushes clean and long-lasting.
Next, the authors cover best practices for maintaining a comfortable and distraction-free workspace, including seating, lighting, brush storage, and furniture arrangement. Advice is provided on how to store brushes, water, paints, paper, and other creative equipment. Reaves and Schulte move on to discuss writing surfaces, which have a multitude of attributes to be considered before making a choice. From texture and color to sizing and permanence, no sheet of paper or bolt of fabric is the same. Recommendations are given for a variety of brush-lettering projects, but the authors note that "no one paper surface is absolutely correct or suits every purpose" (25).
Studio Basics ends with an examination of media; the brush can be used with almost any liquid or gel medium, and Reaves and Schulte outline the advantages and disadvantages of each. Sumi ink, goauche, watercolors, pigmented inks, fabric paints, and acrylics are all covered in this chapter, and the authors expertly describe the unique characteristics that define each.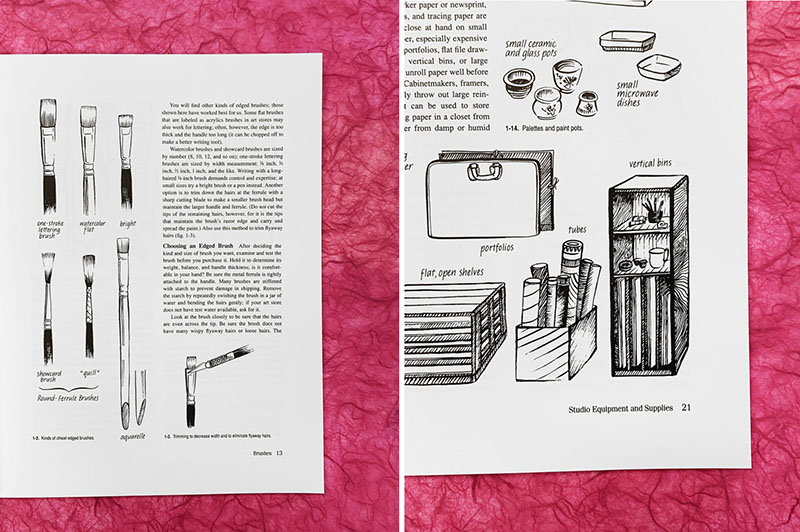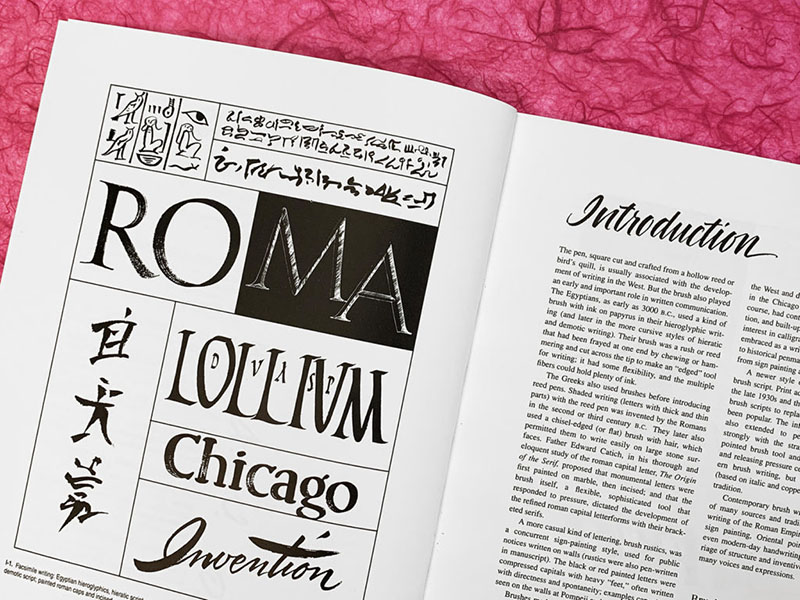 Now that Reaves and Schulte have covered the basics of materials and workspace, readers can begin their brush lettering exercises. Chapter Two, Introduction to the Edged Brush, begins with thorough demonstrations on how to hold, palette, and clean your brush, as well as make introductory strokes. This chapter is complete with easy-to-understand diagrams and illustrations that show correct paint consistencies, pressure, brush holds, and more.
Moving on, Reaves and Schulte give readers experimental marks and doodles to warm up with before diving into three alphabet lessons: Roman Minuscules, Italic Minuscules, and Flourished Italic Capitals. Each alphabet includes a brief history, illustrations of its underlying structure, ruling guidelines, basic strokes, and options for letter variation. Readers who follow these lessons will gather a deep understanding of the structure and form of each individual letter, culminating in the knowledge of the entire alphabet.
Chapter Three, More Edged-brush Lettering, has alphabet lessons for additional study, including Roman Capitals, Uncials, Neuland, Numerals, and more. Reaves and Schulte also explain how to adapt your favorite alphabet to the edged brush, variations, and play.
Try to think of the individual parts of a given letter, then let your imagination create and combine those parts in new ways. Work fast, disregard legibility, and do more, more, more! Do not hold back––try anything. - Brush Lettering: An Instructional Manual in Western Brush Calligraphy, page 95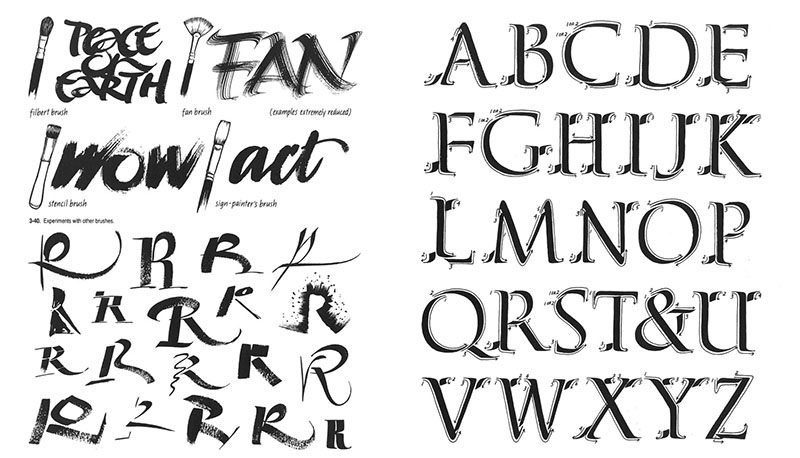 Chapter Four, Introduction to the Pointed Brush, begins much the same as Chapter Two: with demonstrations on how to hold, palette, and clean your brush, as well as make introductory strokes. However, some additional advice is included that is specific to pointed brushes, such as shaping the brush, writing, support, and proper body position. Using a pointed brush involves different choices, moves, and strokes than an edged brush, and the authors cover those distinctions in detail. The two methods of making letters, broken stroke and pressure/release, are explained to the reader in the text, which is accompanied by clear diagrams and illustrations.
Reaves and Schulte move on to the first alphabet of the chapter: a basic pointed brush script. This lesson includes instructions on letter families, stroke direction, brush positions, descenders, ascenders, crossbars, finishing strokes, and so much more. Readers will learn how to troubleshoot common brush lettering problems as well as join letters with grace and beauty.
Chapter Five, More Pointed-brush Lettering, consists of alphabet lessons for additional study, including alternative minuscules and majuscules and copperplate script. Once again, Reaves and Schulte explain how to adapt your favorite alphabet to the pointed brush, variations, and play.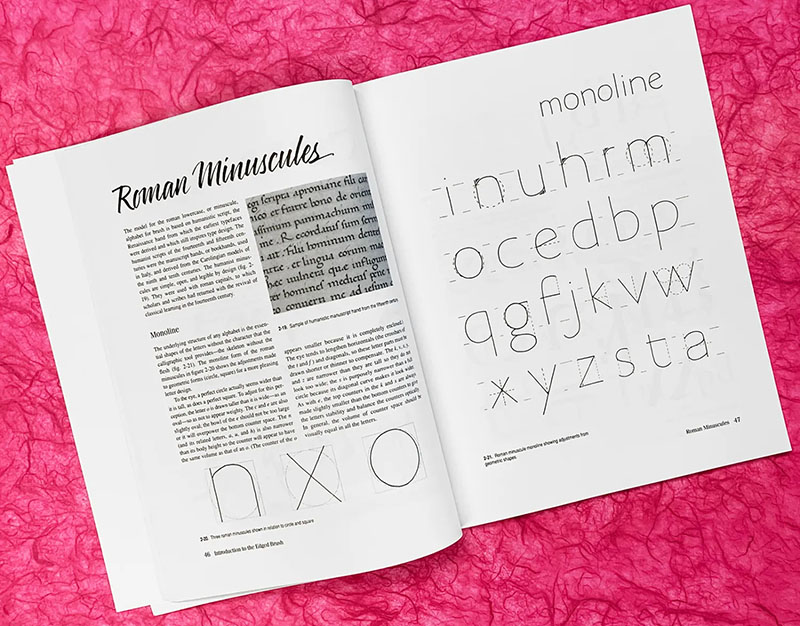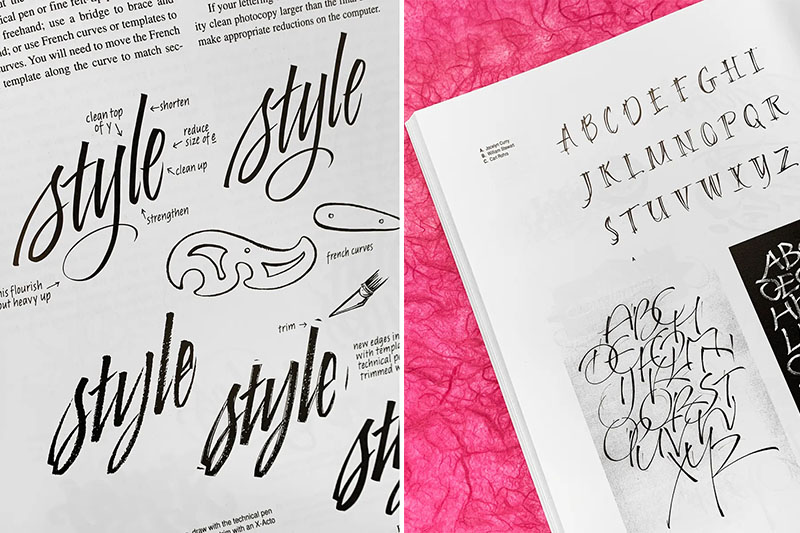 The first five chapters of Brush Lettering are designed to teach traditional ink-on-paper brush lettering, but once you have that under your belt, Reaves and Schulte have plenty of advice for exploring other media. Chapter Six: Many Uses, Many Artists, covers alternative surfaces, reproduction work, digital editing, and even silkscreen techniques! This chapter, and the book itself, ends with a gorgeous showcase of contemporary brush lettering that includes artists such as Carl Rohrs, Iskra Johnson, William Stewart, Katharine Wolff, and the authors themselves. This gallery of calligraphic work truly exhibits the variety that can be achieved with a single brush, and the opportunities for individual expression that therefore lie in its bristles.
Brush lettering today is a lively art with many dimensions and many applications. In an age where anyone with a personal computer can manipulate letterforms or create layouts with multiple type styles, the uniqueness, personality, and expressiveness of hand lettering is even more apparent and appealing. - Brush Lettering: An Instructional Manual in Western Brush Calligraphy, page 156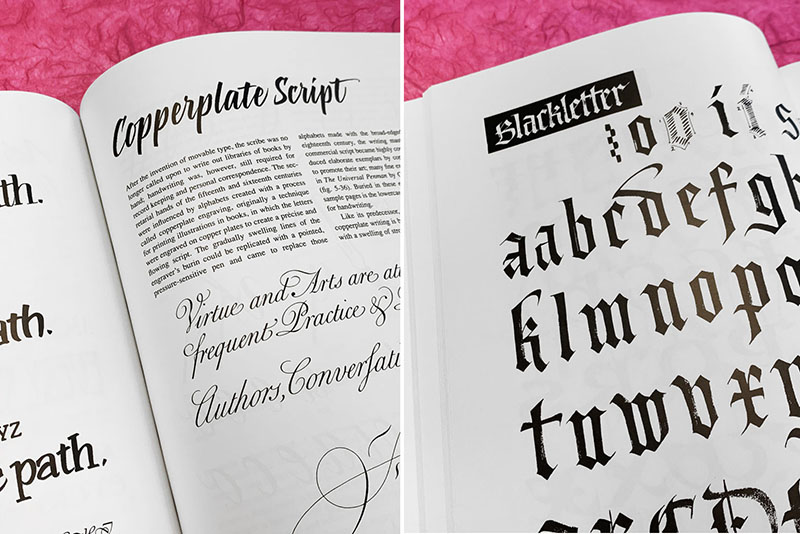 You can purchase Brush Lettering: An Instructional Manual in Western Brush Calligraphy here.