J. Herbin 1670 inks were named the "the most unique ink for calligraphy" by Calligraphy Masters (@calligraphymasters) in 2019, and we certainly agree. These highly saturated colors shimmer with a gold sheen on less porous papers, creating a truly spectacular multicolor halo fading effect. 1670 is compatible with pointed pens and broad edge nibs, but these inks were specifically designed for use in fountain pens. We're here to give you tips and advice on how to get the best performance from 1670 inks, no matter what writing tool you're using.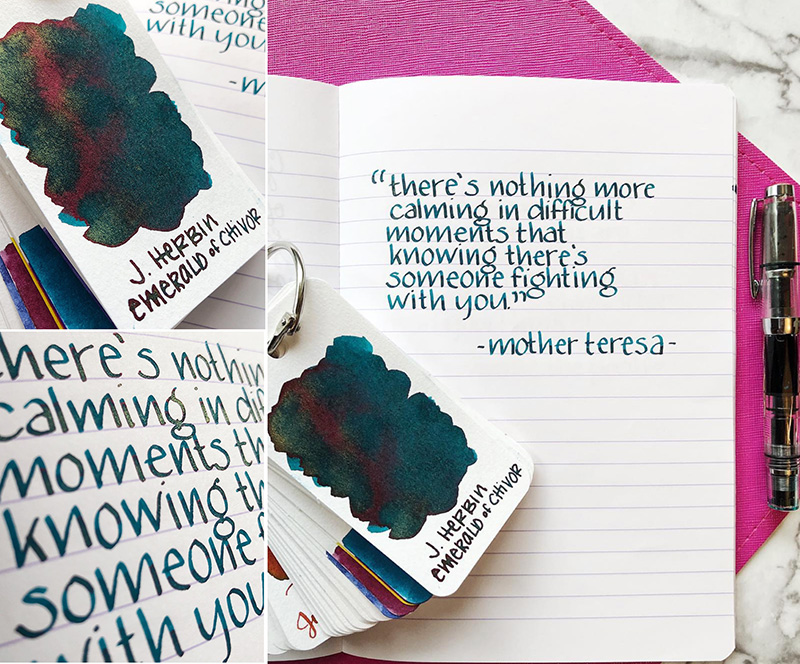 Artwork by Tonette from @shannay619 using Emerald of Chivor.
First, let's talk consistency. J. Herbin 1670 inks are on the watery side because they were designed for use with fountain pens. If you're using 1670 with dip pens, expect the ink flow to be more similar to McCaffery's Ink than Ziller. These inks are also non-waterproof, so keep your writing away from the elements (and that container of water on your desk that's just waiting to spill). You may need to dip your pen more frequently than usual, and 1670's bottle, while gorgeous, has a small opening that is not friendly to larger pens. The gold flakes that give J. Herbin 1670 inks their shine will be settled at the bottom of the jar initially. For best results, give the bottle a thorough shake (30 seconds to a minute longer than you typically would). You can also stir 1670 with a mixing brush, or use automatic stirrers such as the SpeedStir Magnetic Ink Stirrer. If you're writing for an extended period of time, you may find that you need to keep stirring multiple times, but trust us––the results are worth it.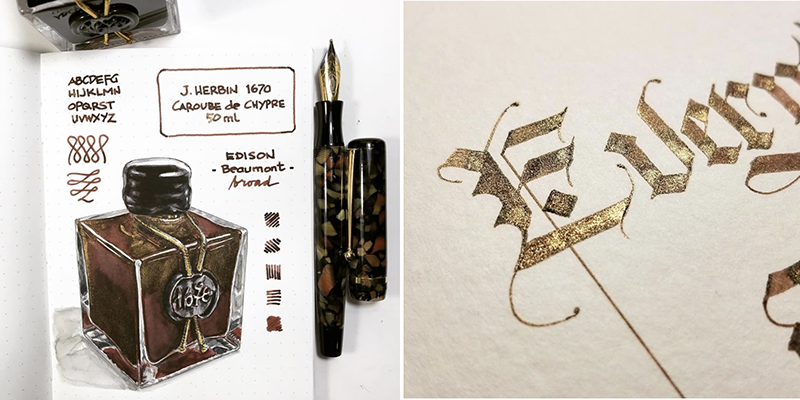 Left: Artwork by @archsurot with Caroube de Chypre Right: Artwork by Amanda from @amsalacreative with Caroube de Chypre
All of J. Herbin 1670 inks are sparkling, but Emerald of Chivor is by far the most popular. This ink produces a magenta/teal color combination that is truly astonishing. This color diversity can be achieved even without stirring, but you will experience less gold sparkle the less you stir. More color diversity will be achieved with juicier, larger nibs that have a good flow. You may experience trouble with ink flow because of the small gold flecks, especially with extra-fine nibs such as the Brause EF66. Mixing the ink well and cleaning off your nib periodically will solve this issue
Video by Edgar from @made.by.edgar using Poster nibs and Emerald of Chivor
The most important thing to keep in mind when writing with J. Herbin 1670 inks is patience. These inks can take a very long time to dry, so users should remain vigilant to avoid smearing. The multicolor halo effect and sparkle does not show up best until the ink is completely dry, so don't worry if your calligraphy doesn't look the way you expect it at first. Also, different papers will produce different color diversity and sparkle level. For the best results, use watercolor paper, Tomoe River, or Clairefontaine Triomphe. Our last tip for calligraphers when it comes to this ink: welcome unpredictability. This ink can be temperamental, and will never produce the exact same results every time. In our opinion, that's what makes 1670 a truly unique and beautiful choice. Now we'll cover fountain pens. Although the aforementioned advice is for calligraphers using traditional dip pens, much of it is important to keep in mind when using J. Herbin 1670 inks with fountain pens as well. However, when it comes to filling and cleaning a fountain pen, there's more you need to know.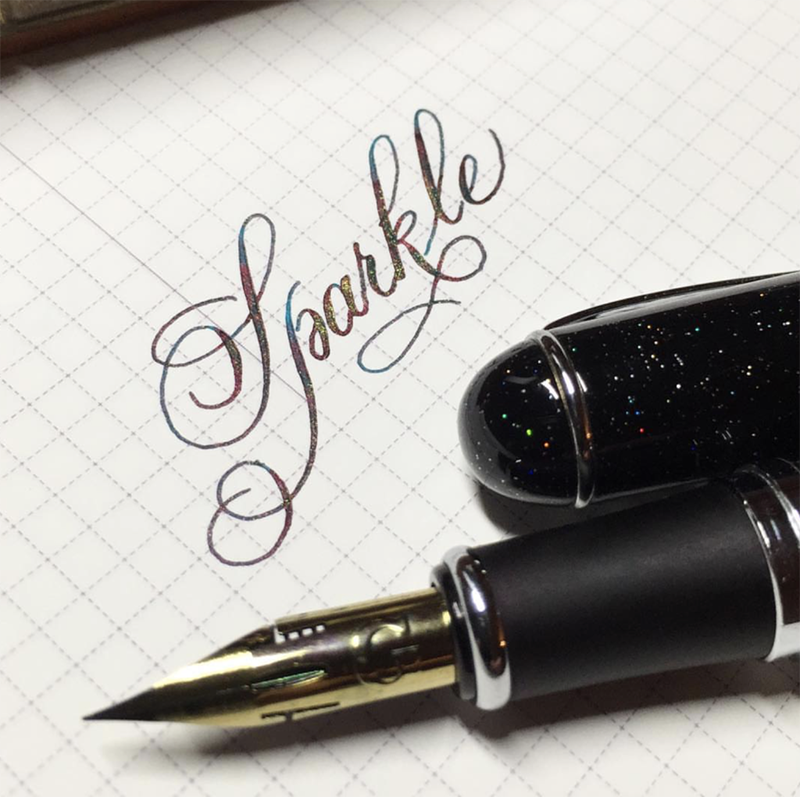 Calligraphy by Sue from @oliveleafcalli using Emerald of Chivor.
Because the jar's opening is on the smaller side, the best methods for filling are to use a pipette or cartridge converter. Before filling, shake or stir your bottle of 1670 thoroughly. Once you fill your fountain pen, either roll the pen in your hands or give it a gentle shake before writing. This will make sure the gold sparkles are evenly distributed. If you're writing for an extended period of time, roll or shake your pen periodically to ensure shimmer consistency. If your fountain pen sits unused for a while, move it from end to end before writing to unsettle the gold flakes.
Just like with dip pens, more color diversity will be achieved with juicier, larger nibs that have a good flow (flex or broad nib fountain pens). Small nibs will still work, but less color diversity will be produced and it will be easier for ink flow to become restricted and harder to clean out your fountain pen. In general, fountain pen users should be more diligent about pen maintenance and cleaning when it comes to J. Herbin 1670 inks. While this ink is formulated to be used in fountain pens, its high saturation and gold flakes make cleaning more necessary, and in some cases, more difficult.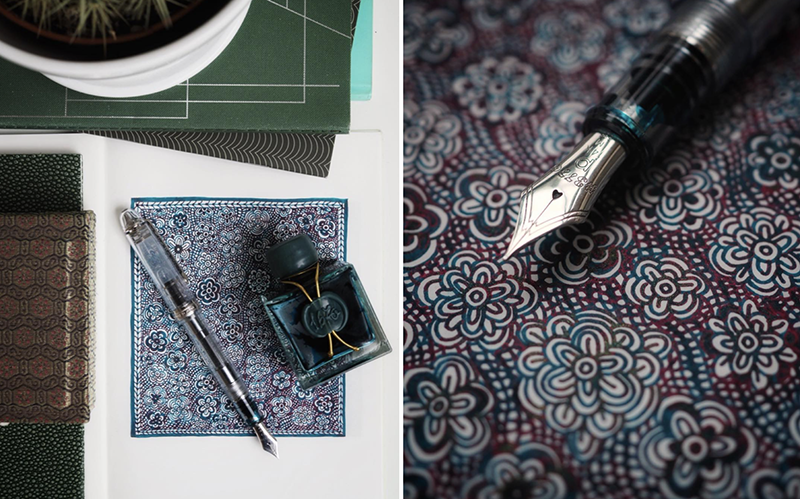 Artwork by Candance from @pensivecandy using Emerald of Chivor
Our best advice is to delegate a particular fountain pen to use 1670 in, rather than filling all your pens with its sparkly liquid. Stick to pens that are easier to clean––for example, anything with a cartridge or converter fill, not that one-of-a-kind antique fountain pen that's a hassle to take apart. Lamy Safari is a great choice. Flushing your fountain pen with water will not remove every speck of J. Herbin 1670 inks. For best results, use a pen flush repeatedly until all excess ink is removed from your pen, or soak your pen in flush overnight. Use a toothbrush to gently remove any gold flakes that have clung to your feed. Your fountain pen will be good as new!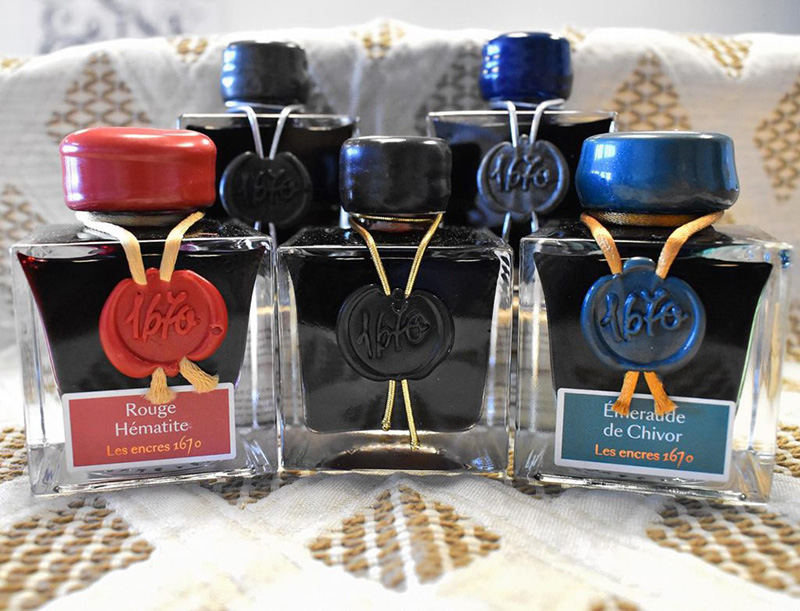 You can find all five shades of J. Herbin 1670 Anniversary Ink here.