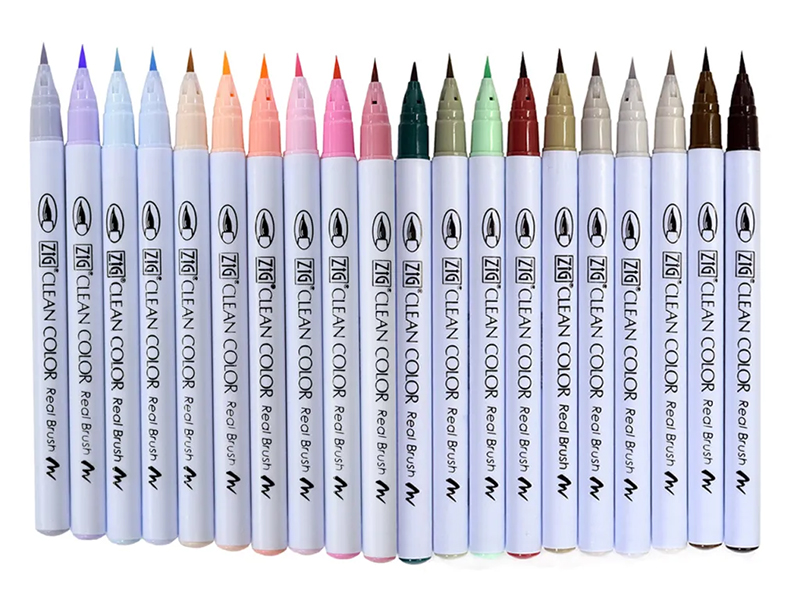 These amazing pens from Zig feature a bristle tip that mimics traditional brushes, allowing users to combine the ease of a brush marker with the artistic possibilities of an actual brush. Clean Color Real Brush markers are perfect for lettering, illustrating, sketching, blending, designing and cartooning. These pens make it easy to create both narrow and wide lines, color gradation effects, and washes, and mimic the style of traditional watercolors. We're excited to show you our five favorite techniques for painting with Clean Color Real Brush markers.
First we're going to show you the simplest technique: using Clean Color Real Brush pens with a waterbrush to create watercolor effects. We're starting with a simple Micron drawing of a rose on cold press watercolor paper, and using Scarlet Red to color in the flower, and Green to color in the stem and leaves. As you can see, Clean Color Real Brush's water-based ink is so highly-pigmented that you don't need to fill the entire petal with color. Simply lay down some pigment, then come in with your waterbrush to blend it out to the edges. If an area is lighter than you desire, you can add more pigment while the paper is still wet.
The second technique is creating a color gradient. Using our Clean Color Real Brush in Violet, we're only going to fill in the top third of our flower drawing with pigment. We'll finish with our waterbrush, blending the color out to the very edges.
For our third technique, we're going to lay down some pigment (we're using Blue) on a separate sheet of paper first. Using our waterbrush, we can pick the pigment up and paint the petals of our third flower in. This technique allows for more control over the opacity and saturation of your colors, and also produces a color gradient effect.
Next, let's blend some colors together. We're starting with a Micron drawing of a sunflower, and using Yellow Green and Bright Yellow on either ends of each petal. Leave a little bit of white space in-between the two colors when you lay down pigment. Next, we'll come in with our trusty waterbrush and blend the two colors in the middle. As you can see, the white space fills with a beautiful pale yellow that's a perfect middle-ground between Yellow Green and Bright Yellow.
For our final technique, let's have some fun with glitter. Using a Clean Color Real Brush in Violet and Wink of Stella Brush pen in Clear, we're going to paint a flower that has lots of spunk and sparkle. First we'll use the techniques already mentioned above: lay down some pigment, then use a waterbrush to blend it out to the edges. The Wink of Stella clear glitter brush pen is perfect for adding sparkle without sacrificing color vibrancy; use it as you go to add your desired amount of glitter.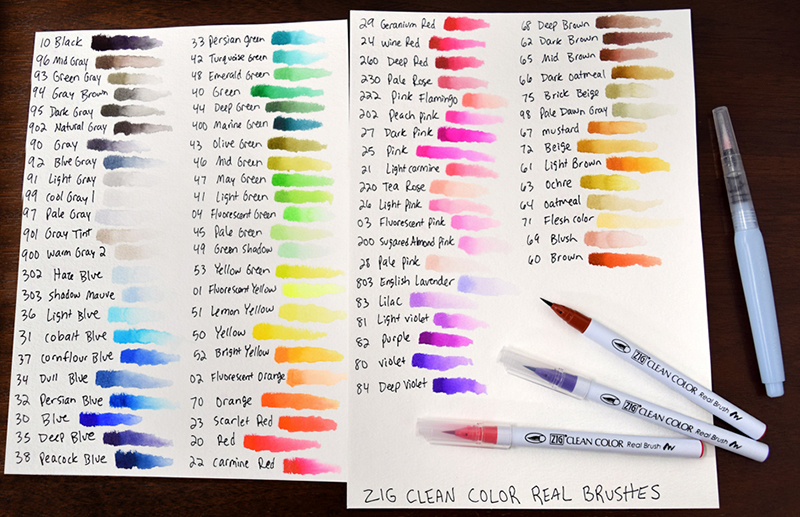 Zig Clean Color Brush markers are available in a whopping 60 colors, but their extreme blendability at least triples the amount of shades you can produce. Choose from our open-stock collection to pick only the colors you love, or try our set of 6 or set of 12 for a good starter kit. And remember––these brush pens are great for more than just painting; try them for lettering too! Here's a gallery that shows just a few of the amazing creative projects Clean Color Real Brush users have come up with: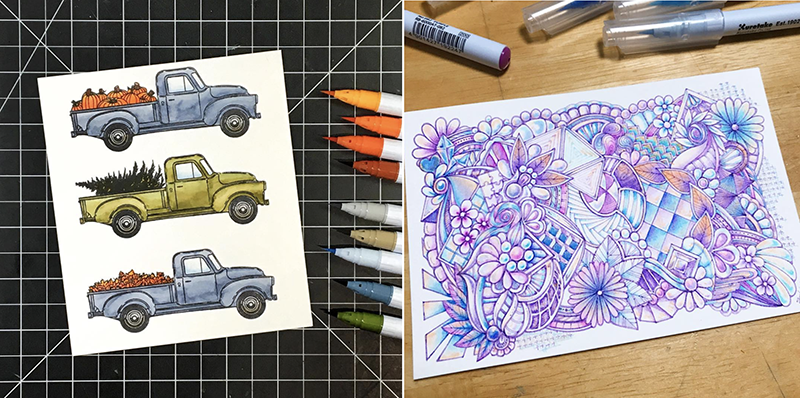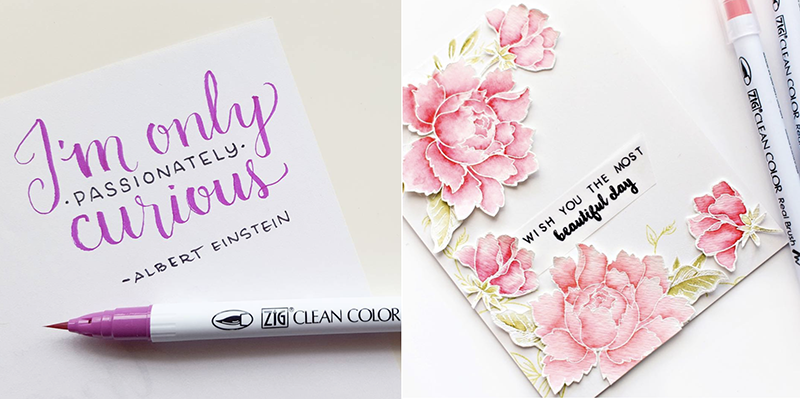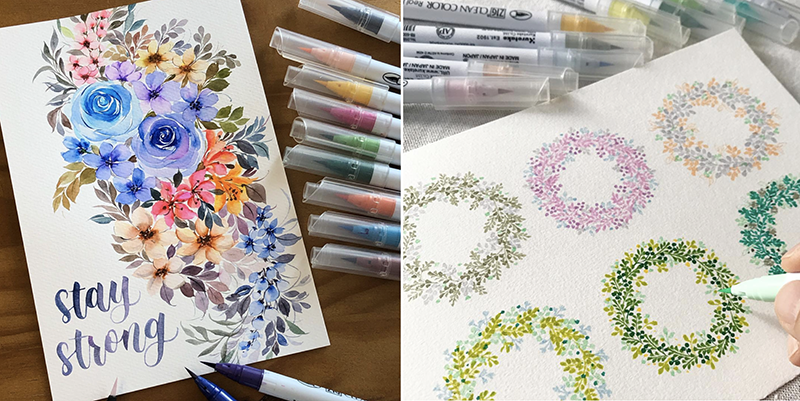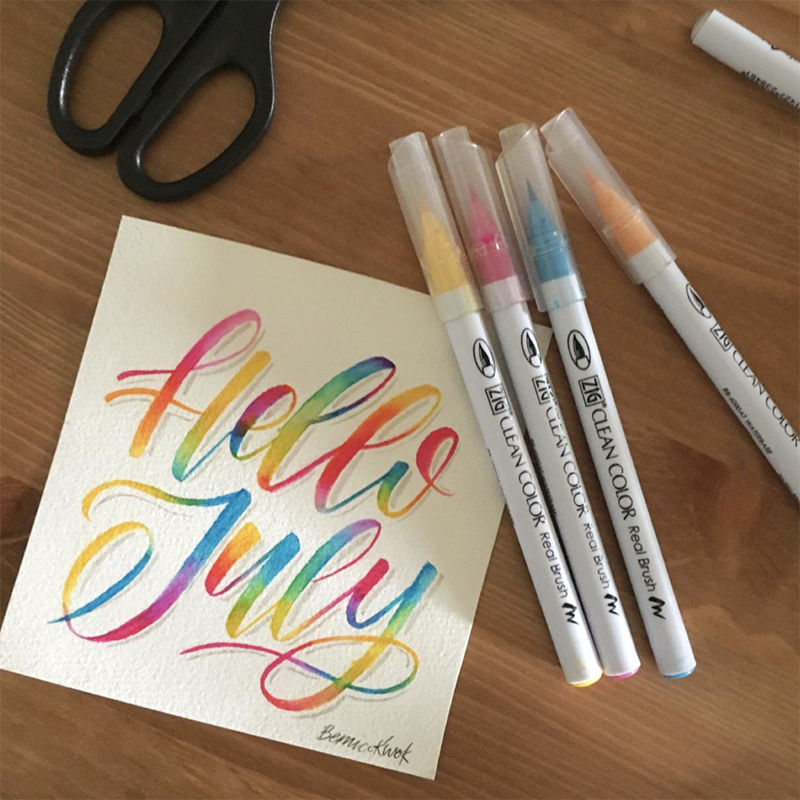 Artists are as follows, clockwise from top left: @emily.leiphart, @__miao_e, @prettyprintsandpaper, @tiffany_solorio_creates, @gift_idea_jp, @makiko_j, and @blessed.moments_.