Zig Fudebiyori brush pens are one of the best tools on the market for bold, beautiful brush lettering. These markers feature the same ink type and color palette as the Zig Clean Color Real Brush markers, but have a different style tip. The felt brush tip on Fudebiyori markers is a perfect balance of firm and flexible and has a great bounce, making it surprisingly great at line variation despite it's larger size. (Cover artwork done with Zig Fudebiyori in Metallic Copper by Binsar from @binsarap)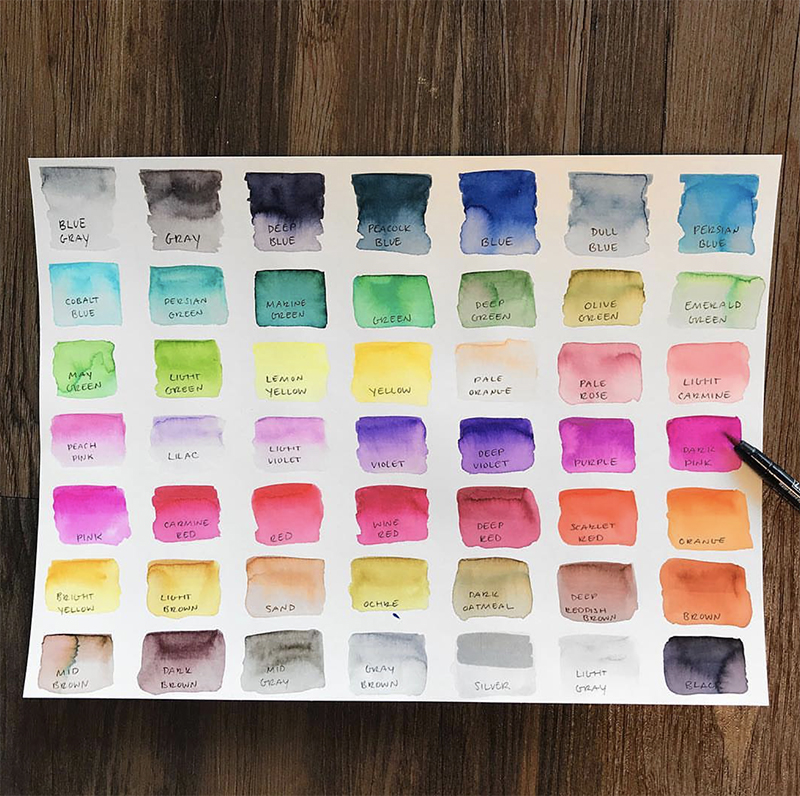 Color chart done with Zig Fudebiyori markers and a waterbrush
Each marker contains water-based, dye-based ink that is super vibrant and highly blendable. In addition to brush lettering, you can create smooth gradients, shadows, and other watercolor effects by using Fudebiyoris with a waterbrush. These markers aren't just great for various styles of modern brush lettering; they're also a favorite choice amongst artists for sketching, rubber stamps, card-making, watercolor style paintings, and more.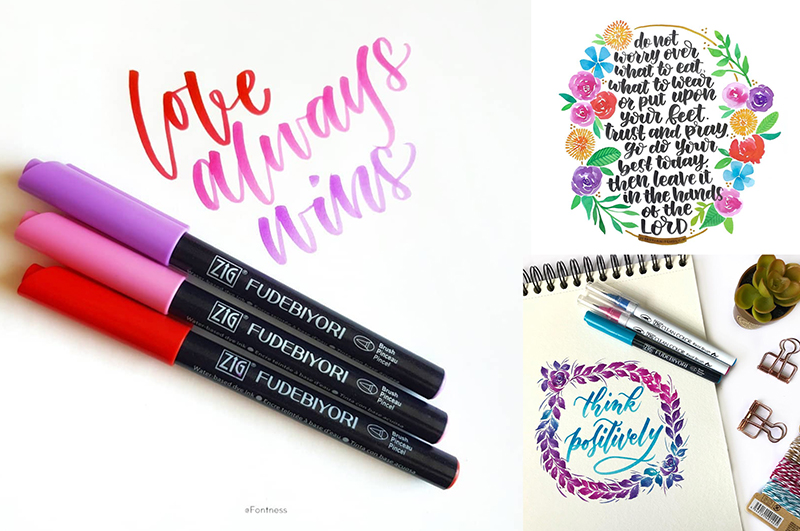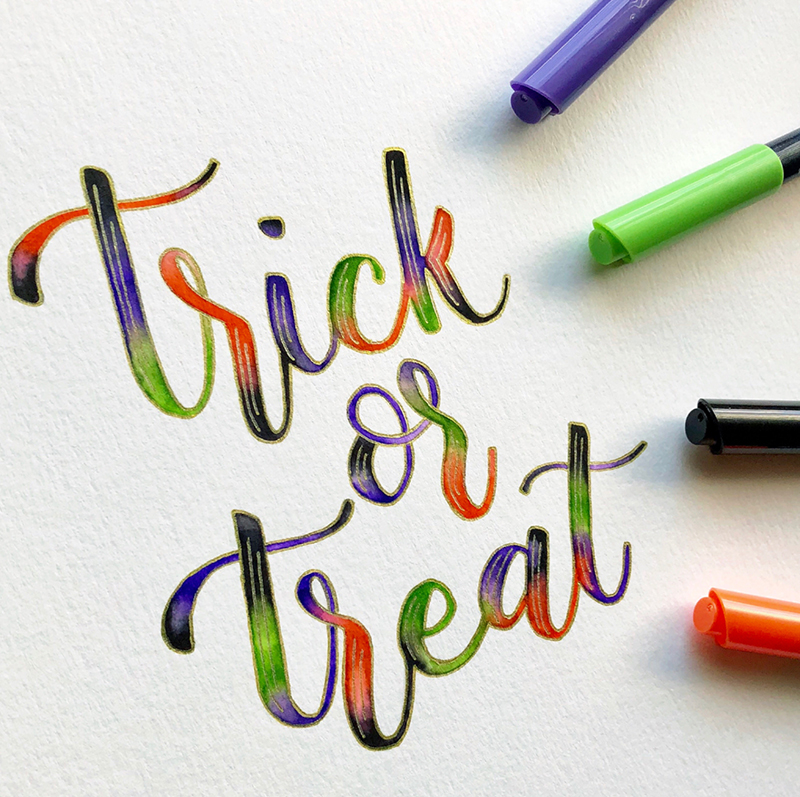 All lettering above done with the Zig Fudebiyori. Artists are as follows:
Bible verse by @merdrey
"Love Always Wins" by Clairly from @fontness
"Think Positively" by Mae from @maebahil
"Trick or Treat" by Patricia from @patricia_prints
Video by @lettersofmeeya
Zig Fudebiyori brush pens are also available in nine metallic colors. The ink in these is slightly different than the ink in the original Fudebiyori; it is water-based, photo-safe, acid-free, light-fast, odorless and xylene-free. Metallic Fudebiyoris have a longer dry time but are waterproof once dry, and have some of the best vibrancy and opacity of all metallic brush pens.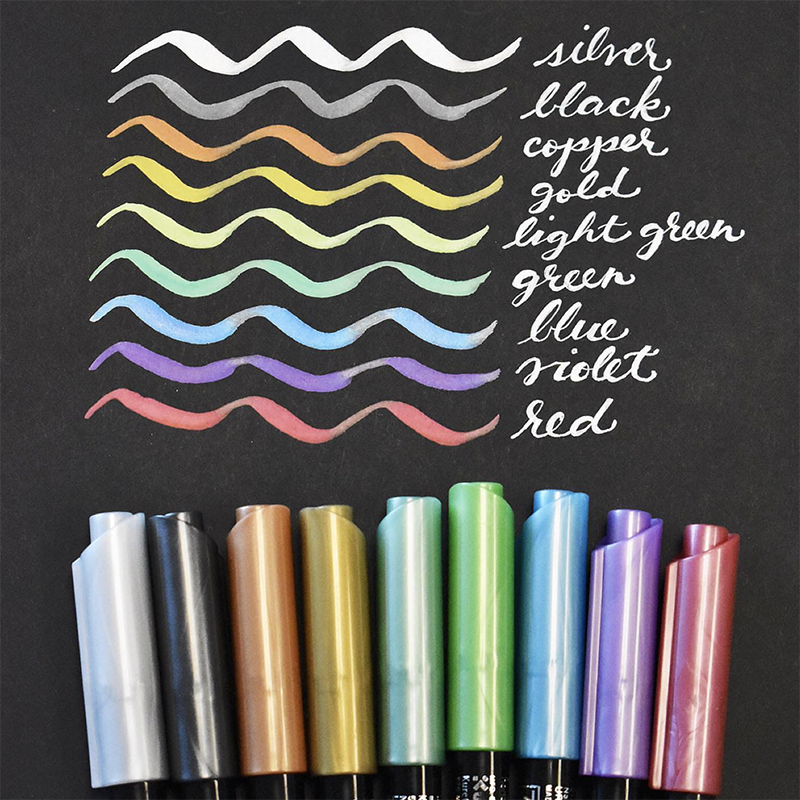 Color chart done with Zig Fudebiyori metallic brush pens on Strathmore ArtAgain paper
Because Fudebiyori metallics are so opaque, they are not the best choice for layering on top of other media. Comic artists and illustrators who prefer to color their drawings after they've already inked their lines may not get the best results with these brush pens. However, Fudebiyoris are great for layering underneath. Simply allow the metallic layer to dry, then draw on top of it with an archival pen or marker, such as the Pigma Micron or Zig Photo Signature.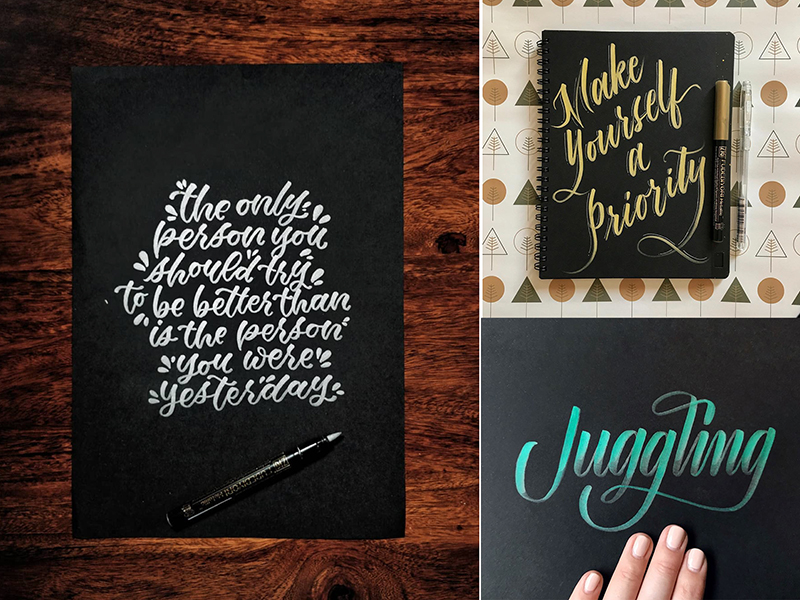 All lettering above done with the Zig Fudebiyori metallic brush pen. Artists are as follows:
"The Only Person . . ." by Ananya from @ananyatheartist
"Make Yourself a Priority" by Mae from @maebahil
"Juggling" by Marla from @marlamakesstuff
Video by @noahcampdesign
---
You can find the original Zig Fudebiyori brush pens, available in 48 colors, here.
Metallic Zig Fudebiyoris are available here.