The Zebra G is manufactured by Zebra Pen Corporation, a manufacturer of writing instruments whose trademark was adopted in 1914 by Mr. Ishikawa. The story of how Zebra acquired their name is a unique one: Ishikawa wanted a name that was both memorable and easily understood internationally, so he flipped through an English/Japanese dictionary from the back, and stopped at the word "zebra." After researching the animal, Ishikawa was please with its gentleness and strong familial instinct, two qualities that were personally important to him. He was also drawn to the zebra's markings, which reminded him of calligraphic strokes. Today, Zebra Pen Co. sells a variety of lettering and writing tools, from ballpoint pens to mechanical pencils and everything in-between.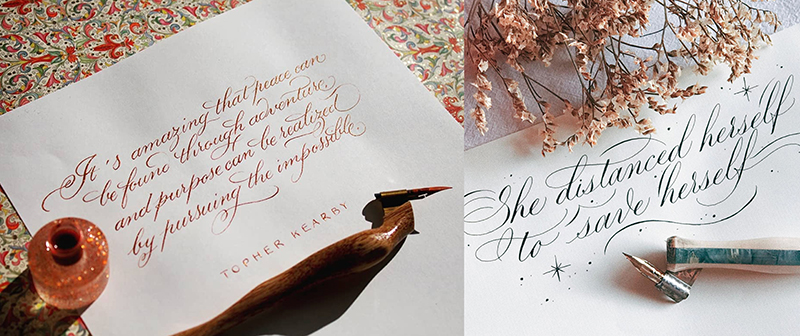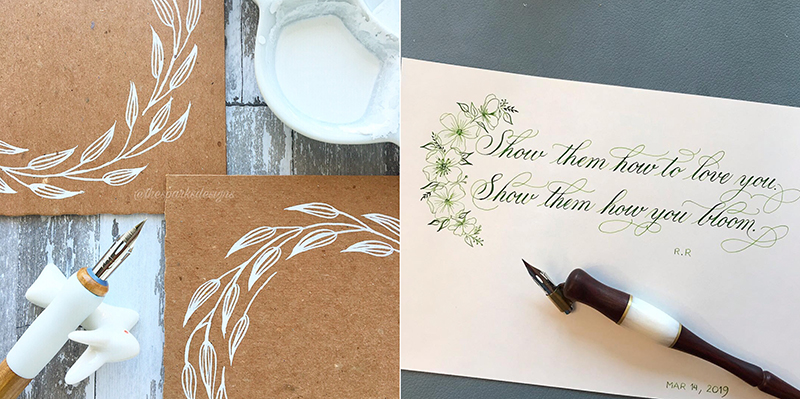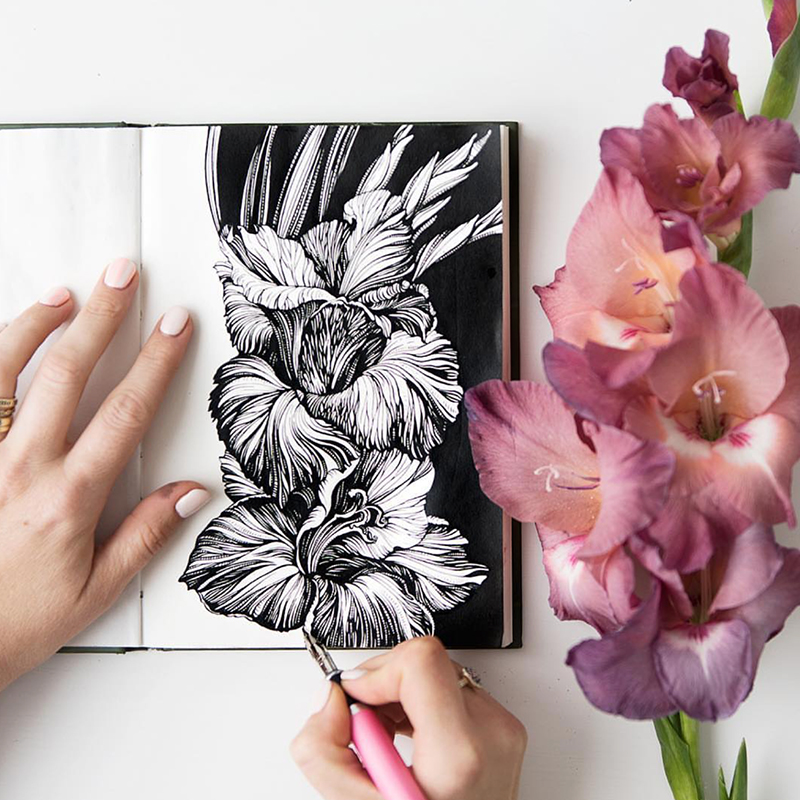 All calligraphy above was done with the Zebra G nib. Artists are as follows:
Topher Kearby quote by Elke Wunsch from @wunschbriefe
"Distanced" by by Ashley from @mori.alley
"Show them How to Love You" by Claudia from @schreibkatze
White leaves by Lois Sparks from @thesparksdesigns
Flower drawing by Catherine Holland from @golandart
The Zebra G nib is one of our top choices for beginner calligraphers. When compared to other G nibs, the Zebra's flexibility is a great middle ground between the stiffness of the Nikko G and the flexibility of the Tachikawa G. This pointed nib produces the finest hairlines of all G nibs, but holds the smallest amount of ink. Because they are more flexible than the Nikko, Zebra nibs don't promote heavy-handedness amongst beginner users. This makes it easier for calligraphers to transition to other nibs as their skills grow; progressing from the stiffness of the Nikko to much more flexible nibs can be very difficult to get used to. Those who start their calligraphy journey with Zebra G nibs may more easily grasp using a soft touch.
Calligraphy by Esmaeil Bigdeli from @bigdeli_calligraphy
Although it still has the stiff and scratchy qualities of all G nibs, many users find the Zebra to be slightly smoother. That being said, we still recommend using these nibs on smooth surfaces like hot press watercolor paper or Rhodia rather than handmade papers or cold press watercolor paper. Zebra G nibs are also called Zebra Comic Pens, and are equally fantastic for manga, inking comics, and general illustration. These nibs are excellent for bold lines, stippling, cross-hatching, and a variety of other textures.
---
The Zebra G is long-lasting, dependable, and strong. This nib makes a great introductory tool, as well as a reliable workhorse nib for experienced calligraphers. Try it for your next drawing or lettering project.
You can purchase Zebra G nibs here.